Pro Street Euro Fat 250 Custom Harley Bike Kit with Motor, Transmission and Primary Chassis
250 Wide Drop-Seat LSD ProStreet Frame "Extreme Euro Design"

Frame includes a Manufacturer s Statement of Origin (MSO) for registration
Product ID:
1814
SKU:
Chassis 196 bike kit
Availability: Out of stock
Details
Details
Custom EURO Fat 250 Pro-Street LSD Bike Kit
Complete with Demon's 114" Polished Engine, Primary and Transmission
The coolest Euro-Style ProStreet Rigid
with
'60 SPOKES'
CHROME CHOPPER RIMS
with BILLET HUBS
All New High Line Show Quality Custom Parts
This is not a backyard package. This is top of the line stuff!



List of parts included in this kit:



250 Wide Drop-Seat
LSD ProStreet Frame
Nice Pro-Street Drop-Seat Rigid frame.

Brand new first quality Frame with MSO.
This

USA made

wide tire frame
FITS FAT TIRE 250
LEFT SIDE DRIVE
HEAVY DUTY FRAME
Specical Features include:

42 Degree Rake. (Will work with 2" over front end.)
6" Stretch on Back Bone.
0" Stetch on Single Downtube.


Single Heavy Duty Downtube.


1-3/8" tube with 156 wall.
CNC Milled motor mount.
TIG welded at major points.
MIG welded on our new precision frame fixtures for accurate location & fitment.
Accepts any Harley-Davidson Evolution motor 88"-135".
Motor mounts.
Rear axle and plates included.
This frame is for chain drive only (too long for a belt)
accepts any Harley-Davidson Evo Big Twin engine except Twin Cam 88


included rear axle, custom battery tray, oil tank, billet oil cap.



Frame includes a Manufacturer s Statement of Origin (MSO) for registration
(will be shipped separately for safety).


$3499 Retail.
Complete Driveline Package:
Notice! THIS ENGINE IS MANUFACTURED EXCLUSIVELY FOR DEMON'S CYCLE
THIS ENGINE IS IN STOCK AND WILL SHIP SAME DAY YOUR PAYMENT ARRIVES
NOT LIKE OTHERS THAT ORDER AFTER THEY HAVE YOUR MONEY
COMPLETE WITH AIR CLEANER, CARB, IGNITION AND WARRANTY!!
FACTORY ASSEMBLED IN GOOD OLD AMERICA !*
*

Notice:

This engine is FACTORT ASSAMBLED

. Some of our competitors, especially on eBay, offer engines that are self assembled from spare parts at a lower price. Do not take a risk on a non-factory assembled engine!
Demon's 114ci 4" bore Engine
Here at Demon's Cycle we saw a lot of potential in Ultima's 113ci engines. However we thought of a few ways to drastically improve the performance of this engine. We went into partnership with Ultima and after reengenering and implementation of our proposals we are happy to introduce all new 2010 "Demon's 114ci" motor.
Here are the main differences between Ultima 113ci engine and Demon's 114ci:
The 113 has a 4 1/2 in stroke and a 4" bore. The 113 is an under square motor (more stroke than bore) and has much higher piston speed (linear feet per second) than the Demon's 114" which has a 4" stroke and 4 1/4 bore. We have managed to reduce piston speed in Demon's 114" Motor's.
This reduction in piston speed results in less wear on the cylinder walls and piston skirts. So its the most reliable engine out there on todays market. This is your future engine and we sell it for the same price as a 113" ultima engine with special air cleaner , better rocker boxes and thicker head gasket for more reliability and dependability.
Also, the increase in rod ratio (rod length divided by stroke) lessens the side load on the cylinder walls, reducing friction, heat, and allowing a much more free reving motor.
By utilizing the MWM 248 cam we were able to retain the great torque characteristics down low and with the increased cylinder fill provided by the increased rod ratio, the Demon's 114 will still pull very hard on the top end.
Another advantage of the shorter stroke is that the Demon's 114" is smoother than the 113. Being based on the 4 1/4" bore engine family, the Demon's 114" has the much stronger 3 piece crankshaft used in the 120/127/130/140 series of motors, along with the much stronger rods.
Billet rocker boxes with holes allow for much better cooling and breathing of the engine.
Demon's custom billet air intake system allows for much better air flow and unrestricted performance.

We should mention that the Demon's 114 is .125 shorter than a 120/127 for those early Softail frames that are a bitch to fit a 120/127 in. And, a lot more exhaust systems will fit with less hassle than on a 120/127.
"Demon's" series engines which are designed to provide our customers with a USA built High Performance engine that was priced to be the best value of any engines now on the market. Ultima's commitment engineering excellence and competitive pricing brought Demon's 114 to life with a completely new design set of castings emphasizing performance, reliability, and value.
All of the castings in these Engines are poured in US foundries and are based on all new CAD designs cast from C355 Aluminum a common US Military alloy known for its stability over multiple heat cycles. The engine components are machined on state of the art CNC equipment for guaranteed dimensional accuracy and repeatability. All of our engines are dynamically balanced using proprietary methods to provide the smoothest running engines on the market and now with our new high flow cylinder heads these engines now can boast the most powerful engines on the market as well!!
We think that you will agree these engines are the best value anywhere.
Product Specifications/ Highlights Demon's 114 Ci
Bore: 4.25"
Stroke: 4.0"
Piston: Mahle Forged
Compression: 10.4:1
Rated Power: 127RW Horsepower
130 LB FT Torque
Chrome Nose Cone/Rocker Boxes
Billet Oil Pump/Tappet Blocks
Mikuni 45mm HSR Series Carburetor
All fins are machined for excellent cosmetic appearance
Twin Cam Styling
30 % More fin than most Evo style heads for cooler running
298-255
Complete Demon's 114 CI Engine-- Polish Finish
COMPLETE WITH CARB IGNITION, MSO AND WARRANTY!!
FACTORY ASSEMBLED!!
'6-Speed LSD Overdrive'
Complete High Polished Transmission with Chrome Covers
Latest 2010 year model.
We don't offer 2003-05 models as "new", like our competitors.
Case is cast from 356-T6 aluminum
Chrome plated Forged Billet Trap Door
Built with German Made Split Main and Counter Shaft Bearings
NOT CHINESE
At last there's a solution that reduces vibration and improves acceleration. When the bike hits freeway speeds, simply shift into 6th gear and lower the cruising RPM. Freeway cruising becomes more enjoyable with reduced vibration, increased gas mileage while keeping the engine in the heart of its torque band. This 6-speed transmission is complete, and ready-to-install
Close ratio Tranny assembly.
1st gear -2.94
2nd gear -2.21
3rd gear -1.6
4th gear -1.23
5th gear -1.00
6th gear -0.86
Allows to get about 5 mph more in the 1st gear, and around 450 rpms lower at the highway speeds.

High Polished Aluminum with Chrome

Fits Harley-Davidson Softail frames
and custom application.
COMPLETE
STREET STYLE OPEN BELT DRIVE
ASSEMBLY
Brand New, Show Polished
Ultima's new belt drive assembly revives the Old School drag race style primary driv at a new affordable price. The Street style unit was designed to handle all the power you can throw at it, with an extra Barnett Clutch assembly plate & Goodyear 85mm wide (3.35") belts to put it to the ground.
Designed to fit OEM Harley-Davidson Softail Style Motorcycles made from 1990 - Up with exception to the starter drive assembly which uses the 1989-1993 diameter jackshaft bolt (1/4-20). These Drives will also fit most aftermarket Softail and Rigid Frames designed to use Softail style components made within these years.
3.35" Goodyear Ultima Belt to Scourge the Pavement
This complete kit includes belt, mounting hardware, detailed installation instructions with illustrations.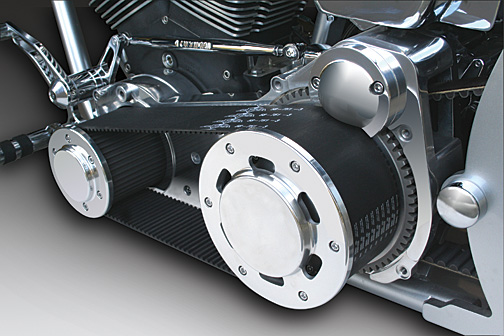 Retail Value: $8272.94
'60 Spoke'
Chrome with Billet Hub 18" x 8.5" Rear Wheel
Will fit 250 Tire
$1050 Retail
'60 Spoke'
Chrome with Billet Hub Front 21" x 2.15" Wheel

$850 Retail
5" Stretched Gas Tank with Pop-Up Cap
$610 Retail
Chrome Billet Front End (Custom Smooth Style)
$1999 Retail
Total Retail:$16,280.00 plus tax.
You are getting all of the parts listed above.
You are buying a

$16K

custom bike kit. Don't miss out on our deal!

Thanks, and have fun building your dream bike.
Chopper built on similar kit.
Chopper built on similar kit
Euro bobber built on similar kit
Product ID = 1814
Reviews