3" Open Belt Billet Primary for Harley-Davidson Softail Evo and TwinCam88
BILLET DRAG RACE STYLE OPEN BELT DRIVE PRIMARY ASSEMBLY 3.35" Goodyear Ultima Belt to Scourge the Pavement
Product ID:
3940
SKU:
Open Belt Primary TC 58800
Details
Details
COMPLETE BILLET
DRAG RACE STYLE OPEN BELT DRIVE
ASSEMBLY
Brand New, Billet, Show Polished
Ultima's new belt drive assembly revives the Old School drag race style primary drive at a new affordable price. The Drag Race style unit with the out board support was designed to handle all the power you can throw at it, with an extra Alto Clutch assembly plate & Goodyear 85mm wide (3.35") belts to put it to the ground.
Designed to fit OEM Harley-Davidson EVO and TwinCam 88 Softail Style Motorcycles made from 1990-2006 with exception to the starter drive assembly which uses the 1989-1993 diameter jackshaft bolt (1/4-20). These Drives will also fit most aftermarket Softail and Rigid Frames designed to use Softail style components made within these years.
3.35" Goodyear Ultima Belt to Scourge the Pavement

This complete kit includes belt, mounting hardware, detailed installation instructions with illustrations.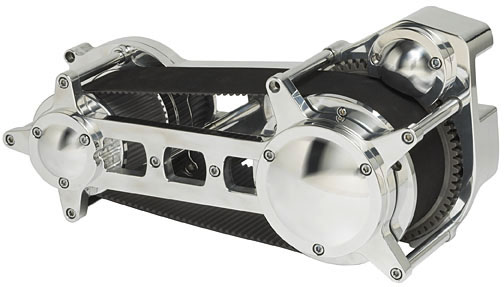 Reviews