Complete Driveline Package:
Notice! THIS PACKAGE IS IN STOCK AND WILL SHIP SAME DAY YOUR PAYMENT ARRIVES
NOT LIKE OTHERS THAT ORDER AFTER THEY HAVE YOUR MONEY
COMPLETE WITH MSO AND WARRANTY!!
FACTORY ASSEMBLED!*
*

Notice:

This engine is FACTORY ASSEMBLED

. Some of our competitors, especially on eBay, offer engines that are self assembled from spare parts at a lower price. Do not take a risk on a non-factory assembled engine!
Product Specifications
Ultima 127 C.I. Complete Motor High-Polished Finish
Ultima 6 Speed Natrual and Chrome RSD Transmission
Ultima Race 3.35" Race Style Belt Drive with Out Side Bearing Support

Completely Factory Assembled Motor with 12/12 Factory warranty and MSO
Product Specifications/ Highlights 127 Ci
El Bruto Series 127ci 4.25" Bore Engine
Polished
140 HP USA Made
El Bruto Series 127ci 4.25" bore Engine
Ultima is now offering the new " El Bruto" series engines which are designed to provide our customers with a USA built High Performance engine that was priced to be the best value of any engines now on the market. Ultimas commitment engineering excellence and competitive pricing brought El Bruto to life with a completely new design set of castings emphasizing performance, reliability, and value.
All of the castings in these Engines are poured in US foundries and are based on all new CAD designs cast from C355 Aluminum a common US Military alloy known for its stability over multiple heat cycles. The engine components are machined on state of the art CNC equipment for guaranteed dimensional accuracy and repeatability. All of our engines are dynamically balanced using proprietary methods to provide the smoothest running engines on the market and now with our new high flow cylinder heads these engines now can boast the most powerful engines on the market as well!!
We think that you will agree these engines are the best value anywhere.
Product Specifications/ Highlights 127 Ci
Bore: 4.25"
Stroke: 4.5"
Piston: Mahle Forged
Compression: 10.2:1
Rated Power: 140RW Horsepower
145 LB FT Torque
Chrome Nose Cone/Rocker Boxes
Billet Oil Pump/Tappet Blocks
Ultima R1 Carburetor
All fins are machined for excellent cosmetic appearance
Twin Cam Styling
30 % More fin than most Evo style heads for cooler running
Camshaft: 264 Duration .625" Lift
Pushrods: Ultima
Valve Spring: Ultima
Chrome Nose Cone/Rocker Boxes
Billet Oil Pump
Chrome Tappet blocks Our New state of the art designed crankshaft incorporates a massive 1.670 diameter pin that is pressed into the one piece, heat treated, 4140 steel flywheel half making these crankshafts some of the strongest available on the market today. These crankshafts feature all new 7.7" long H-Beam rods with .927 diameter wrist pins to handle all the power you can throw at them. These are also balanced using our exclusive methods making these some of the smoothest engines in the industry.
Ultima is proud to introduce our performance carburetors, directly interchangeable with S&S Super G Carburetors. Ultima carburetors will accept S&S jets and S&S bolt pattern air filter assemblies.
Patented design improvements - a relocated accelerator pump nozzle for increased throttle response and THUNDER JETS are a bolt on! Simply remove the plugs and screw in the Thunder Jet. No expensive machining required!
ULTIMA 127 C.I.
E-85 Landspeed Record
For the 2009 season, the bike that started the serious
addiction of the salt was pulled out of retirement to
set again, another record. The last time the bike had
run was with the late Cliff Gullett on the saddle.

Cliff had the time of his life, and so did I.
After contacting Mike Garrison at Midwest, we decided on a 127 E-85 V-Twin by Ultima. Wink Eller fabricated a handmade exhaust system. Performance Machine supplied the Bead lock rear wheel and the front wheel that is lighter than a poker chip. The power was transferred to the 5 speed transmission prepared by Wink Eller via a one to one belt drive built by Jonny Andersen and Wink Eller at Belt Drives LTD. The end result was two new Bonneville land speed records.
Two new Bonneville land speed records:

Class 127 A/PF
The first 148.428 down and 138.945 back for a two way average
of 143.686, 3.494 M.P.H. over the record for a tune up run.
The second 162.123 down and 166.437 back for a two way average
of 164.280, 24.186 M.P.H. over the record set by a 184 C.I.
two engine Harley.

Both new records were set under the entry name
Spirit of Cliff Gullett
in memory of my friend Cliff.
Many thanks to Midwest Motorcycle Supply, Ultima Motorworks, The Gullett Family, Team Bullett and my wife, Dee. I have prepared the bike and I am ready to run and attempt two more records at El Mirage Dry lakes at the October 2009 and November 2009 meets.
Thanks for all your support,
'6-Speed Overdrive'
Complete Right Side Drive
Hydraulic
Transmission Assembly
Latest 2016 year model.We don't offer 2003-14 models as "new", like our competitors.

Right hand drive balances out 250-300 custom motorcycles.
Case is cast from 356-T6 Natrual and Chrome
Chrome plated Forged Billet Trap Door
Pulley - 32 tooth
Built with German Made Split Main and Counter Shaft Bearings
NOT CHINESE
At last theres a solution that reduces vibration and improves acceleration. When the bike hits freeway speeds, simply shift into 6th gear and lower the cruising RPM. Freeway cruising becomes more enjoyable with reduced vibration, increased gas mileage while keeping the engine in the heart of its torque band. This 6-speed transmission is complete, and ready-to-install
Close ratio Tranny assembly.
1st gear -2.94
2nd gear -2.21
3rd gear -1.6
4th gear -1.23
5th gear -1.00
6th gear -0.86
Allows to get about 5 mph more in the 1st gear, and around 450 rpms lower at the highway speeds.

Natrual Aluminum with Chrome

Fits Harley-Davidson Softail frames
and custom application.
COMPLETE BILLET
DRAG RACE STYLE OPEN BELT DRIVE
ASSEMBLY
Brand New, Show Polished
Ultima's new belt drive assembly revives the Old School drag race style primary drive at a new affordable price. The Drag Race style unit with the out board support was designed to handle all the power you can throw at it, with an extra Barnett Clutch assembly plate & Goodyear 85mm wide (3.35") belts to put it to the ground.
Designed to fit OEM Harley-Davidson Softail Style Motorcycles made from 1990-1999 with exception to the starter drive assembly which uses the 1989-1993 diameter jackshaft bolt (1/4-20). These Drives will also fit most aftermarket Softail and Rigid Frames designed to use Softail style components made within these years.
3.35" Goodyear Ultima Belt to Scourge the Pavement

This complete kit includes belt, mounting hardware, detailed installation instructions with illustrations.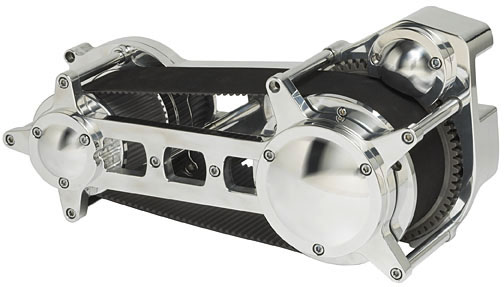 Retail Value: $8272.94